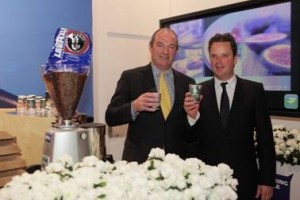 First European convention centre to serve Lavazza Tierra Intenso coffee beans
Tierra Intenso by Lavazza is now the standard coffee in Amsterdam RAI, making the RAI the first convention centre in Europe to serve this 100% sustainable coffee to its guests. The switch underlines Amsterdam RAI's ambition to be the most eco-friendly exhibition and convention centre in Europe by 2013.
The 1.5 million cups of coffee served at Amsterdam RAI each year will from now on be made from sustainable coffee beans. "Coffee is really the business card of every catering company," says Martin van Nierop, director Convention Centre Operations. "And it is great to be the first European exhibition and convention centre to serve all our guests a 'green' cup of sustainable Lavazza coffee."
Sustainable business with Lavazza
Lavazza coffee has been the standard brand served at the RAI since 2008. Its Tierra Intenso coffee is a premium blend of 100% washed Arabica coffee beans, produced exclusively at three plantations in Honduras, Peru and Colombia. Tierra Intenso is certified by the Rainforest Alliance, an international organisation that promotes sustainable business in the field of tourism and agriculture.
CSR at Amsterdam RAI
Amsterdam RAI is a European leader in the exhibition and convention industry with major ambitions in the field of corporate social responsibility (CSR). It aims to be the most sustainable exhibition and convention centre in Europe by 2013.