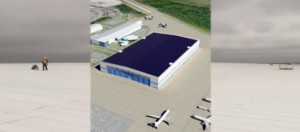 Like the ultra-efficient airplane soon to be built there, the 1.1 million square-foot (102,193 square meters) final assembly building is about to set a new standard for environmental performance.
Boeing announced a partnership with South Carolina Electric & Gas that will enable Boeing South Carolina to operate as a 100 percent renewable energy site.
"Our 787 Dreamliner is manufactured using fewer hazardous materials and designed to consume less fuel, and produce fewer emissions. It only makes sense that our business operations in South Carolina reflect the environmental progressiveness of the airplane we'll build here," said Jim Albaugh, President and CEO of Boeing Commercial Airplanes.
Renewable energy will be generated in part with thin-film solar laminate panels installed on the new 787 final assembly building roof. This solar installation will provide up to 2.6 megawatts of electrical power, enough to power about 250 homes. The installation will be the largest in southeastern United States by production capacity, and the sixth largest on a building in the country.
"All of the energy generated on this solar roof top will be used on site by Boeing," said Bob Long, general manager for resources planning at South Carolina Electric & Gas.Β  "We're actually going to be installing the generator on the customer side of the meter."
Construction on the new facility is on schedule, with airplane production due to begin in July 2011. At full production rate, Boeing will assemble and deliver three 787s per month from South Carolina. Boeing's manufacturing site in Everett, Wash., also produces 787s.