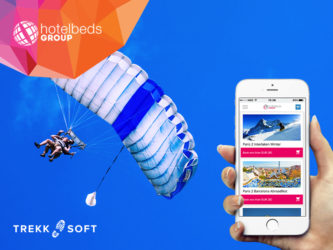 TrekkSoft´s technology will be integrated into Hotelbeds Group´s platform to benefit both suppliers and clients via increased upselling opportunities.
Increase in TAB´s portfolio by over 2,000 activities – to reach more than 14,000 activities globally.
Partnership forms part of Hotelbeds Group´s strategy to triple sales for its Transfer & Activity Bank over coming years.
Palma de Mallorca, June 1, 2017 – Hotelbeds Group, a leading bedbank worldwide and business-to-business provider of services to the travel industry, has continued to strengthen its fast-growing Transfer & Activity Bank (TAB) business with a strategic technology partnership to power real-time bookings with TrekkSoft AG, a Swiss-based software solutions company that connects tour and activity suppliers to their customers online and offline.
This partnership see the implementation of TrekkSoft´s technology into TAB´s Hotelbeds Group booking platform in order to power real-time bookings. This will benefit Hotelbeds Group's large portfolio of over 35,000 travel selling partners such as online travel agencies, travel agencies, tour operators and airlines. TrekkSoft´s inclusion will help to optimize the overall sales process and offer a more scalable contracting model, reducing the time to market for all new products available on Hotelbeds Group's distribution channels – including both Hotelbeds and Bedsonline.  It will also open up more opportunities for last minute, in-destination bookings and a better guest experience for ticket validation.
Existing and new activities suppliers to TAB will additionally benefit from TrekkSoft´s streamlined contracting process to upload products seamlessly, as well as through the ability to sync direct channels such as website and point of sale with the TAB distribution network.
Additionally this partnership will bring an additional 2,000 plus activities to Hotelbeds Group´s TAB business, an increase of roughly 16% that takes the total number of activities available on the platform to over 14,000 globally. Around 70% of this new product is mostly focused on guided tours and city sighting as well as bringing a new segment of outdoor recreation and adventure sports to Hotelbeds Group´s platform such as sky diving, paragliding, rafting and skiing among others.
This development follows Hotelbeds Group´s announcement last November at the World Travel Market in London of an ambitious plan to triple sales in its TAB business along with a commitment to expand its product portfolio to deliver best-in-class technology.