Sales increase of 87% over last four years
Over 7,500 experiences and activities in more than 300 destinations are now connected to the isango! platform
Significant expansion of in-destination bookings, with 215% bookings increase during last year
Palma, 24 of November 2017. Hotelbeds Group, the business-to-business provider of services to the travel industry globally, has announced today results confirming the successful growth of the Group´s tours & activities arm isango! – the web-based specialist retailer of tickets for tours, experiences and attractions in both the B2C and white label solutions channels.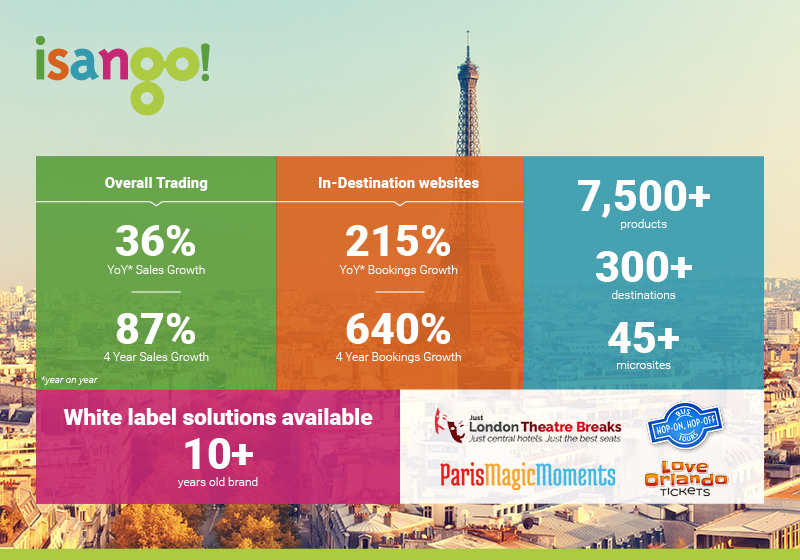 Overall isango! – which operates a range of websites such as isango.com, Local Paris Tours, Hop on Hop Off Bus and Love Orlando Tickets, plus offers white label solutions to B2B clients such as airlines and online travel agencies – has achieved 87% growth in trading over the last four years, year-on-year representing a compounded annual growth rate of 36%.
This success has been driven by a significant increase in the offering available on the isango! platform, which now sells 7,500 tours and activities in more than 300 destinations worldwide including attractions such as the Eiffel Tower in Paris, Sagrada Familia in Barcelona and Statue of Liberty in New York.
Particular success has been achieved in gaining bookings from travelers in-destination, with a growth rate in bookings of 215% in the last year, and growing 640% over the last four years. This expansion has been matched by growth in its non-English language websites, which over the last three years have grown as a proportion of the overall isango! business.
Javier Arévalo, Managing Director of the Transfer & Activities Bank (TAB), the unit that isango! forms a part of at Hotelbeds Group, states that "This business has experienced exponential growth thanks to its mission to stay ahead of the pack. The launch of a great selection of websites to fill in gaps in the travel distribution marketplace helps travelers in booking those longer, more extensive holiday packages that include tours, experiences and activities."
Vinay Gupta, Managing Director of isango!, assures that "We are very proud that our hard work in understanding the needs of tourists has been successful and allowed us to become a real "gateway", as our name means in the Zulu language. We will keep performing our best trying to shed light on the favorite cities worldwide and top attractions. We want to offer all the possibilities that form the tourist bucket list and beyond, delivering awe-inspiring travel experiences. "