Slovenia 'Host Country Europe' at Vakantiebeurs 2011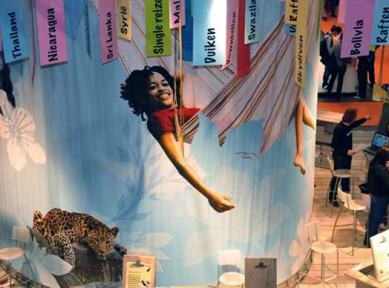 At the Vakantiebeurs 2011 Slovenia will be presenting itself as 'Host Country Europe'. The Netherlands is an important market for this Central European country. Fitting in with the exhibition theme of 'Unforgettable Destinations' Slovenia will use the upcoming event to highlight all its known and once-visited-never-forgotten tourist trump cards. Slovenia is making a major effort for the coming Vakantiebeurs, which offers the opportunity to present countless new destinations to visitors to this event. In addition, the country is also putting options for a range of active holidays, that have so far been less publicised, in the spotlight. The public days of the Vakantiebeurs are Wednesday 12 January through to Sunday 16 January 2011.
Slovenia, which is situated at the southern edge of the Alps, below Austria, borders on Italy in the west, Croatia in the east and the Adriatic Sea in the south. Bart Strijker, Project Manager for the Vakantiebeurs, feels it is justified that the choice for a Host Country in Europe fell on Slovenia.
Undiscovered
Bart says: "Despite its wonderful geographical situation the country has remained undiscovered by large groups of holidaymakers. At the Vakantiebeurs expert local Slovenian exhibitors will be changing that by giving first-hand information about the varied known and unknown attractions in this densely forested, mountainous country, including a lot of new campsites and historical cities such as the capital Ljubljana. Visitors to the Vakantiebeurs can look forward to a very special presentation."
Favourite
Dimitrij Piciga, general manager of the Slovenian tourist board in Ljubljana: "Slovenia has always been a favourite of thousands of Dutch tourists. The country is half the size of the Netherlands but its population is only two million. This means a lot of nature, mountains, hills and more than half of the country is forested. A large population of bears live side by side with humans in the south of the country. At first glance Slovenia looks a bit like Austria's Tyrol or Carinthia and when looking more closely it resembles Northern Italy and sometimes even parts of Hungary. But any way you look at it, Slovenia is always cheaper. Prices are 19% below the EU average."
Spa and wellness
"Slovenia is one of those rare countries in Europe where you can still drink water from springs and rivers without fear of stomach problems. And where else can you wake up in a peaceful forest glade and enjoy a concert by Paul van Dyke or a reggae festival that same evening …
Slovenia is no longer just a camping destination for the Dutch. Of all the foreign markets, the greatest increase in numbers of Dutch holiday makers is seen in the Slovenian spa and wellness centres. Ans even the biggest Heineken fans will take a break and enjoy a Slovenian wine …"
Information
For information about participating in the Vakantiebeurs 2011 please contact Marloes den Otter, tel.: +31 (0)30 2952706, marloes.den.otter@vnuexhibitions.com. See also: www.vakantiebeurs.nl.