2012, International Harm Reduction Conference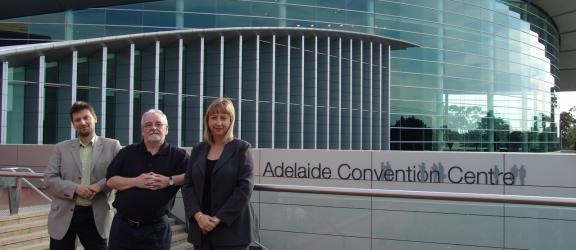 The Adelaide Convention Centre will host Harm Reduction 2012 – IHRA's 23rd International Conference, after spearheading the winning bid and meeting with key conference organisers.
"The Adelaide Convention Centre stood out as a prime candidate against national and international competitors to host the conference and the co-operation, support and help they provided made it a pleasure to work with them during the bidding process. We are looking forward to continue working with them to make our conference a terrific success," Managing Director of the Conference Consortium, Paddy Costall, said.
Paddy Costall and Conference Consortium Technical Director, Grzegorz Krol, visited the Centre and toured around South Australia to familiarise themselves with the venue and destination.
"Touring the Adelaide Convention Centre and experiencing all it has to offer, from the conference facilities to the quality of service reinforces that we have made the right decision in selecting this as the venue for the 2012 global Harm Reduction Conference," Mr Costall said.
Harm Reduction 2012 stands as an example of the Adelaide Convention Centre engaging the Adelaide Convention Bureau and the South Australian Tourism Commission to form "Team Adelaide", providing a strategic solution to secure the conference for South Australia.
"We are pleased that our network of strong relationships with key industry bodies around the world has resulted in securing this conference for South Australia. When our representative in the United Kingdom alerted us to the opportunity to host IHRA 2012 we immediately began managing the tender process and later chose to involve the Adelaide Convention Bureau and SATC to round out our application and ensure Adelaide was selected over Australian competitors such as Sydney and Melbourne," Adelaide Convention Centre Chief Executive, Alec Gilbert, said.
The conference will contribute to the broader South Australian tourism industry with over 7000 bed nights forecasted and an estimated $5.8 million to be poured into the state economy.
It is the first time the 1000+ delegate five-day conference will take place in Adelaide after being hosted in Hobart once and Melbourne twice before. The 2012 International Harm Reduction Conference will be held at the Adelaide Convention Centre from 6-10th May 2012.