2011, 23-26 June, 48th ERA-EDTA Congress
The 48th annual ERA-EDTA Congress will be held from 23rd to 26th June 2011 at the Prague Congress Centre. It is the most important annual gathering of Nephrologists from all over Europe and beyond, and it is being held in Prague for the first time in thirty years.
ERA-EDTA is the European scientific association that specialises in the treatment of kidney disease, dialysis, kidney transplants and patient care following transplants, as well as everything else relating to this medical field.
"The Czech Society of Nephrology had already an excellent reputation in Europe when it submitted its proposal to have an ERA-EDTA congress in Prague. The city is also a natural gateway to Eastern Europe where ERA-EDTA is very active. So it is no surprise that for 2011 the ERA-EDTA board chose Prague to host its 48th congress," said one of the organisers of the congress, Paolo Zavalloni. All the facilities for the congress will be provided by Prague Congress Centre, which has the capacity to host an event of this size. It is anticipated that there will be around 8 000 participants.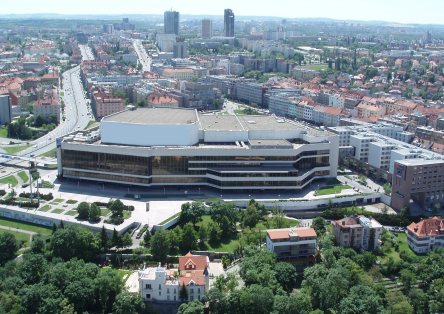 The Prague Congress Centre is located in a unique position on the top of one of the hills in Prague, offering a beautiful view of the famous skyline of Prague, with the silhouette of the Prague Castle. Only two underground stops from the downtown area. (Line C, stop Vysehrad). The local partner for ERA-EDTA's secretariat is CZECH-IN PCO.
The congress will look at several key subjects relating to nephrology, dialysis and transplants. The main aim is to ensure the further training of professionals in this field. Participants should gain a detailed overview of developments in the field thanks to specific examples from practice.
The actual congress will be preceded by meetings of working groups and the presentation of the latest results from clinical tests. "The organisers have taken a lot of care in preparing the scientific programme for the congress and I am sure that they will manage to attract the interest in particular of young doctors involved in this field," added Zavalloni.
More than seventy per cent of professionals in Europe will be attending the congress. 72% of all the participants will come from Europe, Germany(1551), Italy(711), Turkey(335), France(328), Poland(319), Spain(319), Greece(232), Great Britain(258), Russia(198), Switzerland(194), Romania(174) and other European countries.
The 28% of non-European participants is expected from Japan(258), USA(176), China(217), India(111), Egypt(141) and other countries.