2012, EWEA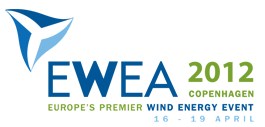 EWEA Annual Event is Europe's premier wind energy event; a place where the industry's brightest minds meet to exchange the latest knowledge, forge meaningful business relationships and create connections with influential people around the world.
It combines a comprehensive, high-quality conference with a first class exhibition and incomparable networking opportunities. This is why it is considered unmissable by the international wind energy community.
Calling all innovators: submit your abstract for EWEA 2012
The call for abstracts for Europe's premier wind energy event is now open! Conference track chairs – six of the industry's top experts, are calling for fresh, cutting-edge ideas to be discussed in one of the six tracks during EWEA 2012 and covering policies, technology, financing and science.
Find out more about the conference and call for innovative abstracts at EWEA 2012.
Save the date for EWEA 2012 in Copenhagen
EWEA 2011 attracted a record-breaking 9,000+ participants, coming from a total of 84 countries. In 2012, Europe's premier wind energy event will take place in Copenhagen, Denmark; the leading country in European wind power technology. The 2012 edition is set to be bigger and better than ever before. Over 10,000 professionals from around the world are expected to attend and experience the power of the wind energy industry.
With even more insightful seminars and more impressive exhibitions than ever before, EWEA 2012 is gearing up to be the most stimulating arena Europe-wide for dynamic networking and achieving great business performance.
Don't let this brilliant business opportunity pass you by. Plan the event in your calendars to benefit from:
latest knowledge from wind power technology experts
wide-ranging information on every aspect of the wind energy
exchange of insight with the most diverse network of specialists
the world's leading companies at one floor
networking with players from the full scope of the supply chain
building meaningful business relations with the people that matter
signing new business deals with the decision-makers
Save the date and get ready to 'Experience the power of the wind energy industry' at EWEA 2012 Annual Event in Copenhagen.