2012, 1st International Biennale of Santorini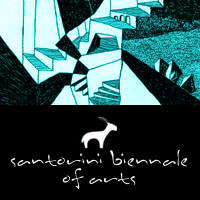 The Founding Director and the team of the Biennale of Santorini have the great pleasure to announce the inaugural Santorini Biennale of Arts that will be organized between 01 August 2012 to 30 Sept 2012. The concept is an idea of Kikos Papadopoulos (artist, designer and economist) now supported by public and private art foundations that will be announced soon.
MISSION & VISION
Biennale's mission is to promote both emerging and established artists that are working on the borders between different art disciplines and allowing them to surpass the traditional concept of location.
Santorini Biennale gives value to supporting and promoting the exchange of arts and cultural experiences, whilst pursuing both a regional & international programme of cultural collaboration. The Biennale of Santorini is inspired by the way ideas are born and inseminated into global societies and how they develop into our intern-connected social stratosphere. The Biennale of Santorini is born out of a fundamental need to cultivate a spirit of research, experimentation and excellence while acting as a catalyst for cultural growth.
THEME
Time, Memory, Recollection and Nostalgia. The 2012 theme is 'The Past', inspired by how humanity accumulates a catalogue of experiences and how those collected events shape the patterns of our lifes.
PROGRAMME
The Biennale of Santorini starts its exhibition programme on the 1st of July 2012 and closes at the end of September 2012. All exhibitions and shows will be held both on Santorini and Thirassia islands in a program that will be announced. Except for the main events that will be organised by its in-house production, the Biennale is open to discuss and examine new proposals for parallel events.
Source: www.santorinibiennale.gr