2011, August, 18th International Federation of Automatic Control World Congress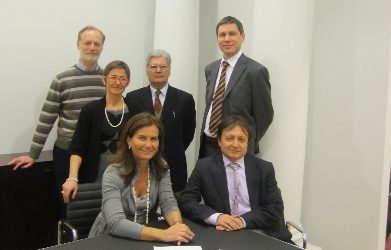 When
Graziano Dragoni General Director of the Milan's Politecnico Foundation and Patrizia Semprebene Buongiorno, AIM Congress Managing Director,
signed the contract concerning the organization  of the congress, the excitement of the special occasions was clearly tangible.
The 18th International Federation of Automatic Control World Congress,  as a matter of fact, will be held in Italy for the first time,  half a century after the first memorable congress of Moscow.
It is the forum of excellence for the exploration of the frontiers in control science and technology, attended by a worldwide audience of scientists and engineers from academy and industry.
It will offer the most updated and complete view of control techniques, with the widest coverage of application fields.
IFAC, founded in September 1957, is a multinational federation of National Member Organizations, each one representing the engineering and scientific societies concerned with automatic control in its own country.
The purpose of the Federation is to promote the science and technology of control in the broadest sense in all systems, whether, for example, engineering, physical, biological, social or economic, in both theory and application.
Milan Congress will be held next year at the Università Cattolica del Sacro Cuore, from the 28th of August to the 2nd of September, and many cultural initiatives involving the city and the institutions will be organized during the meeting.
The event, sponsored by the CNR (the Italian National Research Council)  and patronized by Lombardy Region, Milan Province and the municipality, will surely represent a unique opportunity for the city and for Italy as well.