2011, Heart Failure Congress
The Heart Failure Congress 2011 which will be held in Gothenburg, Sweden from 21 May until 24 May 2011.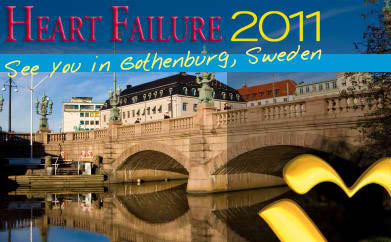 The overall theme of this congress is co-morbidities because more and more patients with heart failure present with other conditions such as diabetes, lung disease, renal impairment, etc.
The Scientific Programme Committee has prepared another outstanding programme for Heart Failure 2011.
Over 70 sessions in 6 lecture rooms designed for an audience of cardiologists, internists, general physicians, basic scientists, epidemiologists, nurses, industry affiliates and other health providers.
Our final objective is to help you manage – in your daily practice – the growing burden of heart failure and to reduce the disease burden on HF patients in real life.
Discover the Theme and Main Topics of the congress: see all details
Co-morbidities and HF
Devices and Technology for heart failure in 2011
Latest Updates
Education and Guidelines
Basic Science, Basic Science translated for the clinician