2011, Publish Asia 2011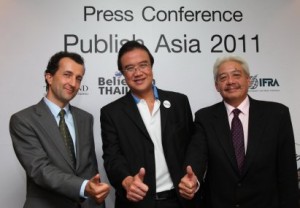 Bangkok – TCEB continues with "Believe in Thailand" campaign to assure confidence and readiness of Thailand in hosting international conference, and provides maximum support for hosting of "Publish Asia 2011" international conference to be held in Thailand during April 27-29, 2011 by the World Association of Newspapers and News Publishers (WAN-IFRA). More than 400 top management and reporters in Asia will participate in the conference, which is a significant vote of confidence for the readiness of Thailand in hosting large-scale events, and therefore a step towards making the World Expo 2020 in Thailand a reality.
"Publish Asia 2011" is the most significant conference on printing and newspaper in the Asia-Pacific. The conference is arranged by the World Association of Newspapers and News Publishers (WAN-IFRA). The participants include CEOs, COOs, Editor-in-Chief, executives and reporters from South-East Asia, North Asia, South Asia, Europe and America. This is the 11th edition, which will be held under the theme: "Driving future-proof media growth."
Mr. Akapol Sorasuchart, the President of Thailand Convention & Exhibition Bureau (TCEB), said, "The support we have provided for the hosting of "Publish Asia 2011" is under the "Believe in Thailand" campaign initiated last year. This is a major conference where the best newspaper practitioners from around the world will get updated on the latest trade developments and offers. It is therefore a great opportunity for TCEB to assure the international community of and continue to build confidence in the readiness of Thailand's MICE industry with the international press and media.
"The fact that Thailand has been chosen to host the Publish Asia 2011 reflects the success of "Believe in Thailand." This campaign aims to show the world that Thailand is a destination of choice for the MICE industry because: 1) The readiness of Thailand for MICE business in terms of both professional services and world-class infrastructure 2) The variety of meeting destinations, both in the big cities such as Bangkok,
Chiang Mai, Phuket, Pattaya, Cha-Am, and other 4 locations: Khao Yai, Hat Yai, Samui and Kanjanaburi; and 3) The countless business opportunities from Thailand's own market and from the growing ASEAN market that can lead to trading, investment and revenue generation for industries."
Mr. Akapol also revealed, "TCEB's support for Publish Asia 2011 includes Asian Media Golf and Asia Media Awards Gala Dinner, which will take place at Shangri La Hotel.
400-500 top management and reporters from Asia are expected to participate in the event. It is therefore also a great opportunity for Thailand to prove its readiness to host the World Expo 2020, which we are currently working to bid for."
Mr. Pichai Chuensuksawadi, Chairman of WAN-IFRA Asia Pacific Committee said, "Publish Asia was first held as Newspaper Asia in Singapore in 2001. The name was changed to Publish Asia for the second edition in 2002 which was held in Bangkok and Bangkok hosted it again in 2005. Other ASEAN capitals such as Singapore, Malaysia and the Philippines have also hosted this conference Thailand was supposed to host Publish Asia 2009 but Thailand's situation during that time forced us to move the conference to Chennai, India. Again last year the conference was scheduled to be held in Bangkok, but the conference was moved, once again, to Kuala Lumpur, Malaysia.
"There was a great deal of uncertainty in May last year in Kuala Lumpur before the decision was made to try to host the conference in Bangkok this year (2011). Some key members of the Indonesian media wanted to host the conference," Mr. Pichai added.
"In the end, the decision was made to host it in Bangkok. There is no doubt that strong support from Thai Airways International and the Tourism Authority of Thailand but especially from TCEB, was crucial in the committee's decision to select Bangkok."
Mr. Pichai also stated, "Publish Asia 2011" will include Newsroom summit to find the latest progress in the world of communication and Printing Summit to exchange trends of printing production and technology. In this edition, Advertising Summit, a new topic, is added. It is aimed to provide an understanding of the changes through case studies and to demonstrate how media companies can benefit from these changes. In addition, the 10th WAN-IFRA Asia award will be another major event in the conference."
Mr. Gilles Demptos, Director, Publications and Events, WAN-IFRA Asia Pacific revealed, "Our decision to bring our annual conference, Publish Asia 2011, to Bangkok was motivated in the first place by the fact that the newspaper industry in Thailand is vibrant, with a lot of published titles and an intense competition. We were of course delighted to embark on this project as Bangkok remains one of Asia's favourite destinations for leisure and business. We find that Thai have a wonderful sense of hospitality. Bangkok offers a large variety of top level business facilities at competitive prices. It is also a fun city where there are always plenty of things to do and see. For all these reasons, our conference's regular delegates love to come to Bangkok and our event's here are traditionally successes in terms of attendance.
"Last but not least, we were extremely grateful of the outstanding support extended by organisations such as TCEB, TAT, the Bangkok Post, Post Today, Post News and Thai Airways. They really went out of their way to make this event happen in the best possible conditions. This exceptional support has definitely been another key decision factor for us to come to Bangkok this year," concluded by Mr. Gilles.
Publish Asia 2011 is a conference which will focus on the exchange of perspectives from significant practitioners in the field of media and press. This is a great opportunity for Thai practitioners in the press and newspapers industry to learn more about the global perspectives on journalism and the world-wide practices and trends in the field. It is also a chance to expand networks, to promote Thailand as a meeting destination in Asia and to assure confidence and readiness to host international conference. "Publish Asia 2011" will take place during April 27-29, 2011 at Shangri La Hotel, Bangkok.