2012, Rotary Thailand
Welcoming over 38,000 participants from the four corners of the world
The convention is expected to generate over 3,000 million baht in revenue
Bangkok: – It will be the utmost pride of Rotarians and all Thais to host this annual international event, "2012 Rotary International Convention." Rotary, a global humanitarian organization and the Thailand Convention & Exhibition Bureau (TCEB: a public organization), together with government and private associations, all supported by the people of Thailand, will be welcoming over 38,000 guests from all over the world during May 6-9 at the IMPACT Arena Exhibition and Convention Centre.
This year's Convention is expected to break the previous attendance record, with the largest number of preregistered participants in the history of the Rotary Convention. The expected draw of over 3,000 million baht in revenues will help contribute to the country's MICE (Meetings, Incentives, Conventions, Exhibitions) and tourism industries.
Mr. Bhichai Rattakul, Advisory Committee Chair, Host Organization Committee of 2012 Rotary International Convention stated that all Thai people were proud that their country was chosen as host of the "2012 Rotary International Convention", one of the biggest conventions in the world. Thailand was chosen by Rotary International to host the convention for the first time due to the convenience of its location and Thailand being an international aviation hub, as well as Government policies on tourism and MICE industry promotions. Furthermore, the convention center meets Rotary International's predefined criteria, offering assisted facilities as well. Rotary members from all over the world will get together to further enhance their practice of voluntary service in accordance with Rotary ideals. The Rotary International Convention is an important event for Rotarians everywhere, held every year.The primary purpose is to exchange information, cultures and advance network among Rotarians. This year's convention marks its 103rd year.
Mr. Noraseth Pathamanand, Chair, Host Organization Committee of 2012 Rotary International Convention, stated that the convention will be held during May 6–9, 2012, at the IMPACT Arena, Exhibition and Convention Center, Muang Thong Thani. This year's concept is to create happiness through smiles, with the slogan: "The Land of a Thousand Smiles," symbolizing the Thai culture of always extending goodwill to those who come to visit. The mascots of the convention are Nong Yim and Nong Yam, a Thai boy and a Thai girl in traditional loincloths, who will act as ambassadors in welcoming over 38,000 Rotary members from all over the world.
The highlights of this convention are several world-renowned Keynote Speakers, such as Muhammad Yunus, Nobel Prize winner of 2006, Hugh Evans, CEO of the Global Poverty Project, and Amanda Martin of the Global Health Access Program. Additionally, Rotary members will also celebrate their success in raising more than $200 million in new funding for polio eradication – Rotary's top philanthropic goal. The final results will be announced at the convention. Rotary's fundraising campaign was in response to a $355 million challenge grant from the Bill & Melinda Gates Foundation. As a result of achieving the campaign milestone six months early, the Gates Foundation awarded Rotary an additional $50 million. All funds will support polio immunization activities in affected countries where this vaccine-preventable disease continues to paralyze children.
Mr. Noraseth added that "The convention is primarily supported by the TCEB, who will host this year's convention with Rotary. Working with Thai Rotary, TCEB will play an important role, having successfully made a bid to host a convention in the year 2005, as well as in providing continual support and funds in preparation for the convention. Support and cooperation also came from the Tourism Authority of Thailand, who oversee accommodation and travel arrangements for the participants, of whom most will stay and tour around Thailand after the convention. The Bangkok Metropolitan Administration also lends its support by decorating and maintaining the Bangkok area and organizing a variety of activities slated to be ready for the visitors' arrival.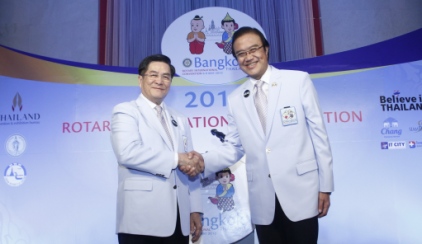 Mr. Akapol Sorasuchart, President of Thailand Convention and Exhibition Bureau or TCEB and co-host, mentioned that, "Pushing for the title of host for international conventions is TCEB's main mission as we are committed to promoting the MICE industries as the principal businesses that will generate revenue and drive the economy of Thailand. Rotary International is a big convention, with many various businesses and individuals from all over the world participating, thus restoring confidence and the country's image from the crisis we have recently undergone. It will also help to present Thailand in a different light under the campaign, "Believe in Thailand."
TCEB together with Rotary clubs in Thailand have worked together since 2004 to promote Thailand as host of the Rotary International Convention 2012 by submitting a Bid Book to Rotary International. As an attachment to the Bid Book, TCEB, as a government agent and a financial supporter, has submitted a letter of financial support in the amount of 270 million baht to organize 2012 Rotary International Convention. There were three cities at the time that qualified for consideration by the executive directors of Rotary International, including Sydney, Kuala Lumpur and Bangkok.
On January12th, 2007, TCEB signed the financial support contract for 2012 Rotary International Convention in the amount of 270 million baht, which gained consent from the cabinet on March 8th, 2012 for Thailand to hold such convention.
2012 Rotary International Convention is a very important event for Thailand as it is an indication of the cooperation between Government and private sectors in order to develop MICE industries. We received the latest news from Rotary International that on January 19th, 2012 at San Diego, there were over 28,000 pre-registers. If we can reach our goal, there will have 38,000 attendants to participate in the 2012 Rotary International Convention with the expected revenue of over 3,000 million baht. The convention will also help promote MICE industrial growth in the year 2012, with an estimated 750,000 participants generating over 60,120 million baht in the country.
"Moreover, since Rotary emphasizes helping humanity and quality of life, benefits from the project will be distributed directly to remote communities. The organization of big conventions generally generates money-flow to support various ongoing or potential projects of the host country. This convention will also be a Showcase that demonstrates Thailand's readiness to host the World Expo 2020," Mr. Akapol concluded.
In addition, Rotary International will hold Peace Forum in Thailand 1-2 days prior to the 2012 Rotary International Convention. The Peace Forum is held every three years and it is an honor and a good opportunity for Thailand to be able to promote our reputation as a peaceful country.
About Rotary
Rotary is a global humanitarian organization with more than 1.2 million members in 34,000 Rotary clubs in over 200 countries and geographical areas. Rotary members are men and women who are business, professional and community leaders with a shared commitment to make the world a better place through humanitarian service. Rotary's top priority is the global eradication of polio. Since 1985, Rotary club members worldwide have contributed more than US$1 billion and countless volunteer hours to the effort