2011, IPR LONDON – 6th Congress and Exhibition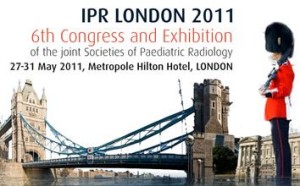 The International Paediatric Radiology Congress is held every tenth year in Europe.
This year's programme includes a selection of  world renowned speakers, debates, competitions, a selection of six different sunrise sessions each morning, 400 posters, a series of state of the art mini-symposia, not to mention a social programme which makes the most of London's legendary and unique artistic, historic and architectural heritage.
You will be spoilt for choice, kept on your toes, and have your intellectual capabilities stretched to the fullest, in what promises to be one action packed week!
If you have been to an IPR meeting before, you may be expecting a two day course followed by a three day conference. Organisers doing things differently this year and the days are being split into course sessions in the morning and scientific sessions in the afternoon.
Professor Sam Gambhir from Stanford USA, a world leader in Molecular Imaging, will presenting the Jacques Lefebvre/ Neuhauser Lecture on Molecular Imaging, which will be one of the highlights of the strong scientific programme. Many world leaders within medicine at hand, who are resident in London, and whom organisers have called on to make this an important clinico-radiological experience.
The whole event kicks off in the afternoon of Friday 27th May with two important Radiology summits – one ultrasound, the other on radiation safety.
The main venue is the Hilton London Metropole Hotel where most of the congress sessions and exhibition take place, whilst a number of the sunrise sessions will take place in the St Mary's Hospital medical school. This is an historic venue (less than 5 minutes walk away) where Professor Sir Alexander Fleming discovered Penicillin, and where Sir Roger Bannister worked (the first man to complete a 4 minute mile- his original stopwatch still housed in the lecture theatre in which you will be seated).
The excellent social programme offers you a welcome reception at the Hilton Hotel, a wonderful baroque concert featuring the London Handel Players and the beautiful soprano Diva, Ms Ruby Hughes. The concert is hold in the superb world famous architecturally important Cadogan Hall (an important listed building the perfect acoustics host the BBC Proms lunchtime concerts) and the final Gala dinner at the Connaught Rooms / Freemasons Hall – one of London's most famous buildings, originally built in 1775 in Covent Garden (also the headquarters of the television series Spooks!).