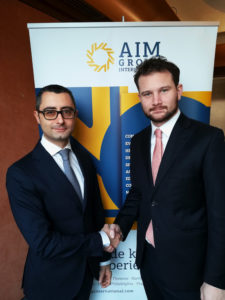 A new app gives access to free, discounted and exclusive services.
Milan, 22nd January 2017 – MilanoCard, the first Milan tourist card, and AIM Group International, one of the most important European groups for events and congresses organisation, have signed an agreement with the goal of encouraging participants to extend their stays in Milan and enjoy the leisure and entertainment services and amenities of the city.
The agreement consists of the offer of MilanoCard when planning congresses and events in the city. Milan is considered today one of the most trendy cities in Europe not only for business but also for leisure tourism, and the MilanoCard provides ways for event participants to discover the city in all its features.
The digital card, available from smart devices via the new MilanoCard app, allows visitors to live an exclusive experience benefiting from free access to public transportation (in the urban area of Milan for 24h, 48h or 72h), a free ride with Uber and free or discounted rates for over 100 services and attractions in Milan and Lombardy including museums, monuments, theatres, shops, restaurants, events and a series of cultural locations.
Since 2015 the MilanoCard Group manages also some of the city's historical monuments reopened after being closed for a long time: the Highline Galleria, the rooftops of the Galleria Vittorio Emanuele, the Crypt of San Sepolcro, the oldest underground church in the city, the Roman Forum, the old main square of Milan where major civil and religious activities took place, and Cinema Bianchini, the first experiential cinema hosted in breath-taking locations, currently aboard a boat traveling on the Navigli. In addition to these exceptional locations, the Historical Archive of Ca' Granda Hospital, the first public hospital in Europe, has been added in 2018, aiming to become a new cultural centre in the heart of the city. In all these places the MilanoCard holders can avail themselves of discounts or free access.
AIM Group International organises more than 3,000 events and meetings every year. Thanks to its presence in 11 countries with 16 offices – including the important Milan office – AIM Group International supports prestigious clients of every sector in the realisation of effective conferences and events with high-quality standards.
Category: Events and Meetings