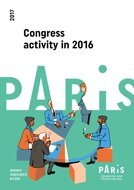 1,118 congress and 854,000 delegates hosted by Paris in 2016: a new record!
Paris once again the leading city in the ICCA 2016 classification which lists international congresses[1].  With 196 congresses recognized by ICCA (International Congress and Convention Association), Paris is ahead of Vienna, Barcelona, Berlin and London. Ranked first in 2014 and second in 2015, Paris reaffirms its position as congress capital.
Beyond this ranking, the congress sector is a strategic segment of the tourism industry in Paris. For the 10th consecutive year, the Paris Convention and Visitors Bureau has carried out a survey identifying all of the national and international congresses hosted in 2016 at 343 venues across the Paris region: with 1,118 congresses (+ 11.4 % compared with 2015) and 854,000 congress attendees (+ 12.2 % compared with 2015), the attractiveness of the destination has increased in this sector. In a post-attack period that has proved difficult for tourism in Paris, these results are particularly noteworthy. Over the period 2006-2016, Paris and the Paris region hosted some 11,000 congresses and 7.8 million congress attendees.
In 2016, congress activity generated €1.2 billion in economic benefits and more than 20,000 jobs in events organization (site rental, reception services, catering, etc.) and tourism (transport, hotels, restaurants, excursions, etc.).
Strong growth in large-scale congresses
Small and very large congresses were up in number in 2016: congresses with less than 500 congress attendees increased by 5% while congresses with more than 5,000 participants increased by 22% compared with 2015. The number of medium-sized congresses, from 500 to 5,000 participants, remained stable.
There was also an increase in congresses that rotate[2] in Europe and locally, up by 4 and 2 points respectively.
In terms of frequency, events taking place annually increased by 14% and thus represented nearly three-quarters of all congresses. Congresses rotating nationally lasted on average 2.2 days and those rotating internationally, 3 days on average.
The Health sector accounted for the majority of congresses (37%) followed by Technology (11%) and Science (8%). Scientific venues hosted 35% of events compared with 20% for congress centres. The latter however accounted for 65 % of congress attendees.
Finally, the months of June, October and November accounted for the biggest number of congresses in 2016. The large majority (95%) were held in Greater Paris (Paris + inner suburbs).
Leading international congresses won for the next few years
In the next 3 years, Paris will host some major congresses, notably at the future Paris Convention Centre, the largest European congress centre, situated in the Parc des Expositions at Porte de Versailles.
2017: 9th IAS Conference on HIV Science (7,000 congress attendees), 102nd Annual Kiwanis International Convention (5,000 congress attendees), 30th ECNP Congress (European College of Neuropsychopharmacology – 6,000 congress attendees), 7th ECTRIMS Congress (European Committee for Treatment and Research in Multiple Sclerosis Congress  – 8,000 congress attendees)
2018: The International Liver Congress (11,000 congress attendees), 28th International ERS Congress (European Respiratory Society – 20,000 congress attendees)
2019: ESC Congress (European Society of Cardiology – 35,000 congress attendees)
[1] Criteria of ICCA rankings: Rotate in at least 3 different countries/  A minimum of 50 participants / Take place on a regular basis
[2] Rotation: Rotation concerns the different locations of congresses. National rotation indicates that successive editions of a congress are always held on national territory. When a congress always takes place in Paris, it is classified as a locally-rotating congress or a 'sedentary' congress.
Category: Events and Meetings, Featured