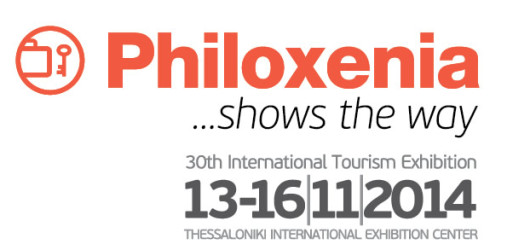 This year Philoxenia celebrates its thirty years of successful organizations!
For its 30th edition, Philoxenia, one of the most important exhibitions of tourism in Southeastern Europe, is ready to host not only the domestic tourism industry, but also significant attendance from abroad along with trade visitors from around the world.
A real tourism panorama of both domestic and international market is about to take place from 13 to 16 November 2014 at the International Exhibition Center of Thessaloniki.
Philoxenia 2014 have already covered last year's exhibition space, is recording an increase in the number of Hosted Buyers, while it has attracted exhibitors from major tourism markets such as: Russia, Turkey, Bulgaria, Egypt, Austria, Moldova, Tunisia and Indonesia.
It is also worth mentioning that the Region of Crete participates again in Philoxenia after the absense of many years.
The exhibition is accompanied by an extensive program of parallel events.
The International Conference "Destination Thessaloniki" stands out and aims to enhance the perspective of the city of Thessaloniki as a destination ideal for hosting international conferences, exhibitions and events of scientific and cultural character.
For more info: www.philoxenia.travel
Category: Events and Meetings, Featured