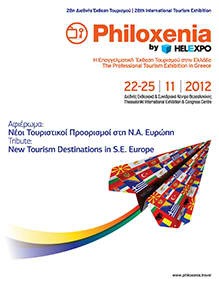 After a stable, valuable presence of 27 years in the field of tourism exhibitions, PHILOXENIA is redefining its thematic content this year, by setting new goals and aspiring to become the greatest Forum on Tourism in the region, with Thessaloniki at the centre.
The main theme of the 28th PHILOXENIA, that will be held from 22 to 25 November 2012, are the New Tourism Markets of the Balkans, and of the countries of South-East Europe in general. Aiming to attract international participants and exhibitors from all regions of Greece, the 28th PHILOXENIA has embarked on a broad promotional programme with hospitality actions of international dimensions.
With an enriched programme for attracting over 100 buyers (100 hosted buyers programme) and a selective list of potential buyers –from the extensive markets of Russia, China and India-, the 28th PHILOXENIA aims to become the stage for the greatest regional FORUM on Tourism this year, thus promoting the tourism of the Balkans, with Thessaloniki as its focal point.
Within the framework of the Exhibition, special parallel tributes will be organized that will focus on the latest technologies and Internet tourism marketing, as well as a conference dedicated to Religious and Cultural Tourism in Greece and in the broader region of the Balkans.
ARTION Conferences & Events will be taking part in the organization of the 28th PHILOXENIA, in cooperation with HELEXPO.
Category: Featured