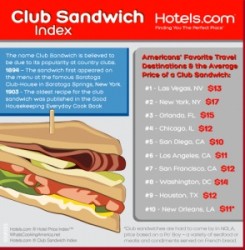 The Hotels.com® Club Sandwich Index (CSI) examines the cost of a club sandwich in the 10 most popular U.S. cities
DALLAS –  2012 – Paris, often thought of as the world's most romantic city, has just been deemed the most expensive city in the world to order a club sandwich by Hotels.com®. But if $33 seems like too much to shell out for lunch, stick to the 10 most popular United States destinations – according to the 2011 Hotels.com Hotel Price Index™ (HPI®) – where the most expensive club sandwich can be found in New York City, for an average price of nearly $17.
Why choose the club sandwich? The classic chicken, bacon, egg, lettuce and mayo sandwich, a standard lunch available in hotels worldwide, was used as a universal measure of affordability in the Hotels.com Club Sandwich Index (CSI). The CSI average price has been calculated by taking the real prices paid by guests for a club sandwich within 1,000 five, four and three-star hotels located in popular travel destinations across 26 countries, with 10 U.S. cities measured.
This standard lunch fare is known for its popularity among hotel restaurants worldwide where it has been a staple since the 1800s. Although the exact origin of the club sandwich has not been proven, popular myths point it to an exclusive – wait for it – gambling club – in Saratoga Springs, New York, where it became popular before spreading to the rest of the world.
To help hotel guests and hotels.com users learn how to prepare the perfect club sandwich on their own, John Torode, chef, restaurateur and TV presenter reveals in this video how kitchen skills can result in lunch that tastes just right.
Top U.S. Domestic Destinations for U.S. Citizens and Those Cities' Average Club Sandwich Price

(ranked from most expensive to least expensive, and rounded to the nearest dollar.)

HPI Rank

City

State

Club Sandwich

Average Price

2

New York City

N.Y.

$17

3

Orlando

Fla.

$15

7

San Francisco

Calif.

$14

8

Washington

D.C.

$14

1

Las Vegas

Nev.

$13

4

Chicago

Ill.

$12

9

Houston

Texas

$12

10

New Orleans

La.

$12*

6

Los Angeles

Calif.

$11

5

San Diego

Calif.

$10
"The CSI is a quirky way for travelers to estimate the cost of living in the destinations they are visiting for their vacations," said Taylor L. Cole, director public relations and social media, North America at Hotels.com. "Hotels.com customers already know how to snag great hotel deals. The CSI is a fun metric which provides an average cost travelers can use to estimate lunch budgets for daily expenses away from home."
Within the U.S., it is no surprise that New York City is home to the most expensive club sandwich prices due to the city's reputation for an expensive cost of living. Although affordable lunch can be found in San Diego, visitors can assume while traveling in the U.S. lunch will set them back around an average of $12 – $14. An interesting regional difference travelers should note is that many restaurants in New Orleans do not serve club sandwiches, but rather the Big Easy favorite, Po' Boy, which can consist of a variety of seafood or meats and condiments served on French bread.
In London, the top overseas destination for Americans according to the HPI, a club costs an average of $19, making the city ninth on the CSI. The least expensive cities for a club sandwich from all 30 global cities surveyed are New Delhi, India and Mexico City, Mexico, with the average price coming in at just $10.
Club Sandwich Index (CSI) of Top Cities Around the World

(ranked from most expensive to least expensive and rounded to the nearest dollar.)

Country/City

Average Club Sandwich Price ($)

France – Paris

$33

Switzerland – Geneva

$32

Norway – Oslo

$30

Japan – Tokyo

$28

Italy – Rome

$24

Finland – Helsinki

$23

Sweden – Stockholm

$22

Australia – Canberra

$20

Denmark – Copenhagen

$19

UK – London

$19

Hong Kong

$18

South Korea – Seoul

$18

Germany – Berlin

$18

Brazil – Brasília

$18

USA – New York City

$17

Holland – Amsterdam

$16

Russia – Moscow

$16

Spain – Madrid

$16

Canada – Toronto

$16

Ireland – Dublin

$16

Singapore

$15

China – Beijing

$14

Colombia – Bogota

$14

Argentina – Buenos Aires

$11

Mexico – Mexico City

$10

India – New Delhi

$10
Category: Trends