Apps World
Why Apps?
-Apps are available offline and need minimal data. All updates and files are automatically synchronized.
-Your App connects you with your clients and partners 24/7.
-Apps boost revenue, cut down operation cost and simplify communication. Any Business accepting sales/bookings through Apps can expect 20-40% more revenue.
-Additional Benefits for Apps within Xenios network: Xenios media are connected with more than 72,100 travel and events professionals and more than 1,265,000 travel enthusiasts, all smartphone and tablet users.
Tools & Pricing

12 Smart Reasons to Build a Mobile App for Your Business
Starting from €1.1 per day. What is included?
Design of your App and publish for iphone, ipad, android and HTML5. 
Useful information for travelers and delegates:
Facilities, Descriptions, Useful Contacts and Click to Call.
Points of interest and Landmarks  in the area with GPS routes from any point.
Restaurants, Nightlife, Shopping in the area with GPS routes from any point.
Push Notifications: Unlimited Geo targeted messages(important/urgent information, promotion messages etc) with 100% delivery rates.
Online real time requests: your guests/clients can request anything, anytime. The right person easily process every request and help clients with the best solution!
Online Forum: Let your guests communicate online and exchange experiences
Surveys and Polls, from your client's smartphone/tablet directly to your email. No more paperwork.
Hotel Check-in, Check-out. No more lines during peak hours.
Sell online in real time Your products or services: Holidays, Special offers, Spa therapies, excursions, tickets for your Events, tickets for local Events and Festivals, Gym or Yoga lessons, restaurant bookings, restaurants delivery and much more. Your clients can order on the way home, during the brake of a conference, on the way from the airport, or during a visit to the museum!
Create unlimited coupons or QR coupons, a great marketing tool for more customers.
Control Panel to update your information or your marketing campaigns.
Unlimited App downloads and detailed analytics. Free listings during Xenios promotions all year round(international exhibitions and special promotions for destinations)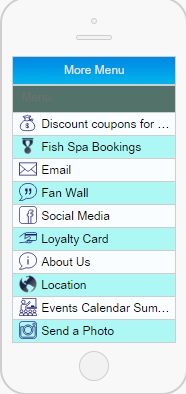 Need more information? Contact us for your free, dedicated study: "App your Business" and for a Demo presentation.
Contact by email, xenios [at] xeniosworld.com  or complete the form below:
A Xenios & XeniosWorld Project. Project Director: Vassilis Bogris