"World Dealer Conference 2011" in Prague for 5,000 business partners from more than 100 countries
Company will at least double worldwide sales until 2018
Significant investments in products, technologies, and markets
New corporate design underlines the remaking of the brand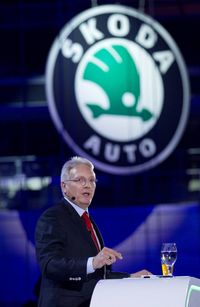 "The New Power of Škoda" – this was the motto of the Škoda World Dealer Conference 2011 that took place in Prague . The purpose of Škoda's largest dealer event within the past 20 years lay in the presentation of the company's new growth strategy. About 5,000 Škoda partners from more than 100 countries received first hand information about the most important milestones of the reorientation. The primary goal of the company lies in at least doubling its sales until the year 2018. To this end, Škoda will introduce new products in the coming years and grow strongly in Europe and in the growth markets of China, India, and Russia in particular. The remake of the brand is underlined by a new corporate design, which was presented for the first time to the dealers and importers traveled in Prague.
Prof. Dr. h.c. Winfried Vahland pointed out the strength of the company and the brand: "Škoda is one of the longest established automobile manufacturers and has shown impressive performance in the past 20 years. It has been nothing less than the successful resurgence of a legendary automobile brand from the heart of Europe – Czech Republic. We are proud of that. This success would not have been possible without the abilities, experience, and the commitment of our 26,000 employees worldwide in all areas of the company. They have made Škoda what it is today: a successful company with a global presence." In doing so, the Škoda brand stands for cars with an attractive price/value ratio for our customers: "Our cars are and will remain 'simply clever'. They are 'cleverly engineered with a human touch'. We will continue this course with consistency and build attractive, authentic vehicles with a special price-value for money, clever ideas, precise workmanship and high benefit to customers throughout functionality and roominess. That is the standard for the expansion of our model range."
Škoda also gave the dealers in Prague a detailed presentation of the new corporate design of the brand. With a new visual appearance, which will be presented for the first time at the International Motor Show in Geneva at the beginning of March and then be used in all means of communication, the company also expresses the new strength and strategic direction in a visual way. Jürgen Stackmann, the board member for sales and marketing, explained the individual elements: "New Power of Škoda – that applies to our new corporate design as well. From the advanced logo to new text fonts to the design of Škoda dealerships: the Škoda brand is powerful, fresh, younger, and it has a dynamic style. But this does not just apply to the reorientation in terms of the visual appearance and branding:
Škoda has never been in a better position than today. First-class products, loyal and efficient employees, a strong parent company and – last but not least – a dealer network that is very well positioned globally are the factors guaranteeing our success in the future."