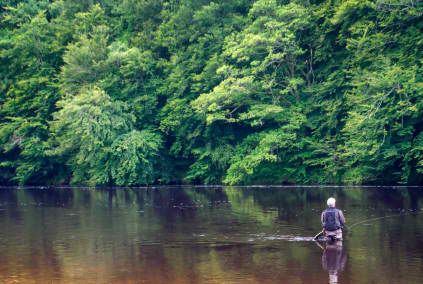 With Botham on the Fly, Sky Sports' Tight Lines, and Robson's Extreme Fishing Challenge on the telly, plus Salmon Fishing in the Yemen, starring Emily Blunt and Ewan McGregor, on at the flicks, we're hooked on fishing right now. So where are best places on the planet to catch a whopper?
Scotland is the home of golf, whisky… and salmon. You don't have to wear top-to-toe tweed and look like an extra from Monarch of the Glen to catch the 'king of fish', but it helps. Forget the Yemen and head to the Land of the Brave to fish iconic rivers like the Spey and the Tweed. Take a hip flask of the water of life to keep you warm in your waders.
Ireland is one of the best countries in Europefor fishing, its rivers and coastal waters full of everything from salmon to bream, trout to pike. And of course, the hospitality is world-famous – there will always be somewhere for you to celebrate landing a whopper.
Slovenia is a bit like Scotland: it's small, it's got mountains, and its rivers are full of trout. Top of the bucket list for visiting anglers is the marble trout, known, perhaps a little strangely, as 'the pride of Slovenia'.
Iceland is the ideal destination for the angler who really wants to get away from it all. Its unique volcanic landscape is a dramatic setting to fish for Atlantic salmon, brown trout and Arctic char under big skies and the midnight sun.
5. South Carolina, USA
If standing all day in a freezing river isn't your idea of fun, man up a bit: go shark fishing. You've got a good chance of a catch at Hilton Head Island in South Carolina, USA – its waters are among the most heavily shark-infested in the world, with a diverse range of from tigers to hammerheads.
6. Northern Territory, Australia
Do a Robson Green and go after Aussie speciality barramundi, a feisty freshwater fish that likes to frolic in mud and puts up quite a fight, making it an enjoyable challenge for the recreational fisherman. Watch out for crocs, however.
Recently made famous in the film version of Hunter S. Thompson's novel The Rum Diary, the tropical island of Vieques, off the east end of Puerto Rico, is an idyllic place to reel in classic game fish like tarpon and bonefish, without the crowds of more accessible destinations like the Florida Keys.
Follow in Robson Green's footsteps and go in search of the legendary giant freshwater stingray in the Mekong, or combine a beach holiday with a spot of sport fishing at the resort of Phuket, whose waters harbour marlin, tuna, wahoo and dorado.
9. Texas, USA
In Texas, bass fishing is as big as a pastime as getting drunk and getting into a fight in the UK. Bag a big, bad bass at Lake Amistad, a massive reservoir in the Rio Grande valley that straddles the border with Mexico.
Pay your respects to the godfather of big game fishing, Ernest Hemingway, by hunting marlin off Cuba. Hemingway wrote The Old Man and the Sea, the story of an epic battle between an old fisherman and a giant marlin in the Gulf of Mexico. Hemingway is honoured by an annual carnival and fishing tournament near Havana.