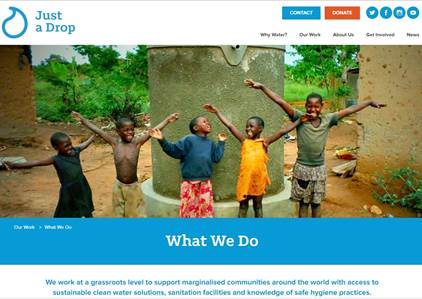 International travel industry water charity Just a Drop has marked its 20th year with the launch of a new website and a brand refresh, to reflect the breadth and impact of its work, and the 1.3 million people whose lives have been transformed with access to clean water, health and sanitation programmes since the charity launched in 1998.
Clean, safe water changes everything – it improves health, education, safety, particularly of women and children when trekking for water, leads to secure food sources, creating the opportunity to trade and escape the poverty trap.  Just a Drop's projects have evolved from the essential of providing clean water and sanitation to encompass areas of community development such as food security and micro-finance programmes, which further support communities to build brighter futures. 
Fiona Jeffery OBE, Founder and Chairman of Just a Drop, said: 'Everything stems from access to clean water – from here we work with communities on health hygiene education including menstrual hygiene management, sustainable food initiatives and agricultural training, and income generating loan programmes – all of which support people to create more sustainable, prosperous lives for themselves. I'm pleased that our new website and branding now paint the full picture of what we do – with a design that has brought us fully into the twenty-first century!' 
In June, Just a Drop completed work with the Kwa Voki and Kikumini communities in Makueni County, a particularly drought-prone area of Kenya, which embodies the charity's holistic approach. 6,353 people now have access to clean water, through the construction of two sand dams. Crucially, the sand dams provide enough water to grow and sustain crops, providing a stable food source for the whole community, and excess crops which can be traded to generate an income.
As part of the project, Just a Drop supported communities with sustainable agricultural training and food production programmes, such as planting drought tolerant crops, farm terracing, seed bulking and tree planting.
Ms. Kanini Muindu, aged 39, from the Kikumini community, said: "Development is about people working together and as a group we are making great strides towards bettering our lives. Agricultural training has been a great learning point to many of us… I have been able to harvest cow peas, pigeon peas and green grams even with the low rains – because of early planting and good quality seeds. This has enabled me to feed my children and keep my family healthy." 
Just a Drop brings sustainable clean water solutions, sanitation facilities and knowledge of safe hygiene practices to communities around the world. Fiona Jeffery OBE founded Just a Drop in 1998 whilst she was Chairman of World Travel Market, as a way of encouraging the travel industry to give back to the countries it operates in around the world. Fiona chose water as it is the most basic of human needs, and she felt that if everyone was encouraged to give a little, then collectively a huge difference would be made.
To find out more about Just a Drop, please visit our new website: www.justadrop.org
Category: News